About Us
Albert's Spotwelder Service Ltd is a specialized supplier of resistance welding machines. Not only do we provide both new and used machines but we also build custom machines and tooling. Our 8000 sq. ft. building houses over 150 used welders, as well as controls, parts, transformers and consumables.
Today, looking at our large facility and client base, it is hard to believe that back in 1969 Albert's Spotwelder shop had been just a shed in Albert's backyard. News of his impressive craftsmanship and personalized customer service quickly spread, drawing in business from a variety of industries and locations. The company got on the road to a vast expansion and, in 1980, moved to its present location in Stouffville, Ontario. Albert's son, James, took over the business in 1998 and proudly continues the family tradition of exceptional customer service and quality production.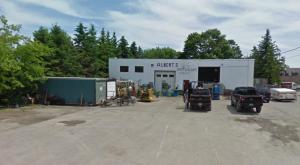 For over 40 years a large part of our business has been focused on the service and repair of machines, both in house and at your facility. We understand that shorter downtimes are critical and provide timely response to your service needs. Our experienced staff can also take your project from concept through to completion. If you are looking for some help along the way, we can provide the services you need, including:
• refurbishing
• electrical design
• control panel building
• programming
• sample and prototype welding
• short and long term production runs
• fixture building
• automation
• integration
Albert's Spotwelding is dedicated to provide you with the best solutions for your resistance welding needs. For more information about what we can do for you, give us a call today.